Beach weddings are fantastic, they can be as formal or informal as you like. Anything from tuxedos to board shorts. The dress? Anything from a large wedding gown to a little tea length slip-on. Super easy and casual. The problem with beach weddings is that most beaches are public. Sure, people are usually nice and they'll move to accommodate a wedding ceremony, but not everyone will cooperate, sometimes they'll stay near the wedding just to be annoying. Parking can be expensive for your guests, as some beaches, charge a hefty fee for parking. Unless you know someone with a private strip of beach or you rent a venue with their own beach such as the Oak Island Golf Club, you're going to have deal with beachgoers. There is a solution although not always a popular one. A sunrise wedding. All the aforementioned problems go away. Parking is free, beaches are uncrowded and everything is fresh. The problem is that its sunrise. You have to be up early and your guests have to be up early. I've heard complaints such as "I'm not a morning person" or "I'll have sleep lines on my face." Not to worry, there is a solution. "Don't' go to sleep". Seriously just stay up all night or take a nap until midnight, get up and get going. Do or have your hair done. Drink a couple cups of coffee, have a snack, the same things you'd do at a daylight wedding only a little earlier. :). "But what about my guests?" Yes, your guest list will be a little smaller, as not everyone will be willing to get up that early. But look at the bright side, the people who show up really want to be there and you have fewer people to entertain. You can still have a reception, my favorite is after the wedding go to a restaurant (private room) and have breakfast. You can cut a giant muffin for your cake, do first dances, drink mimosas or bloody mary's and hang out for an hour or two. Then you catch your flight to the Carribean (for example) and grab some sleep on the plane. In the morning your single, by that night your on the honeymoon. Very efficient and romantic. Another option would be to have the wedding at sunrise with your closest friends and have a larger reception that afternoon or even in the evening. No rules, do it your way. Don't believe me? If you live near the beach or even a lake, get up one morning at sunrise and check out the world, it's beautiful with all sorts of possibilities.
A simple sunrise wedding at Carolina Beach, NC. Billy Beach Photography.
Reciting vows at a sunrise wedding in Carolina Beach, NC. Billy Beach Photography.
First kiss at a sunrise wedding in Carolina Beach, NC. Billy Beach Photography.
Clever idea, they brought a door as a prop on the beach for their wedding. Carolina Beach, NC.
We had the beach pretty much to ourselves at sunrise. A few people walking dogs and metal detecting, but essentially empty. Carolina Beach, NC.
Even at sunrise, you can have some fun with a wedding. Rented this decommissioned firetruck as a Limo to take them to the restaurant. Carolina Beach, NC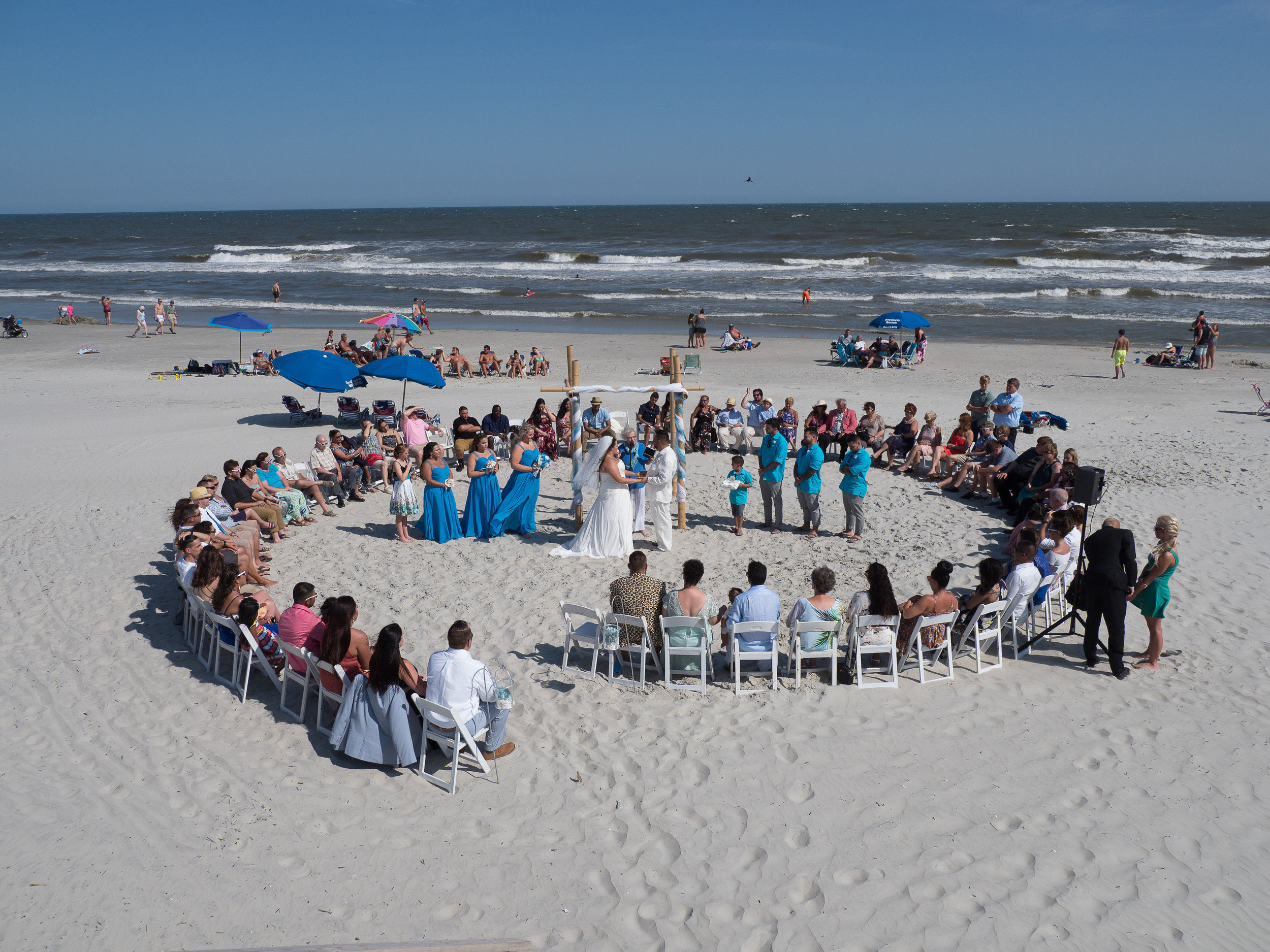 A daytime beach wedding. Still a great wedding, but the beach was packed. I love the chair design.